Candy can 'grandpa'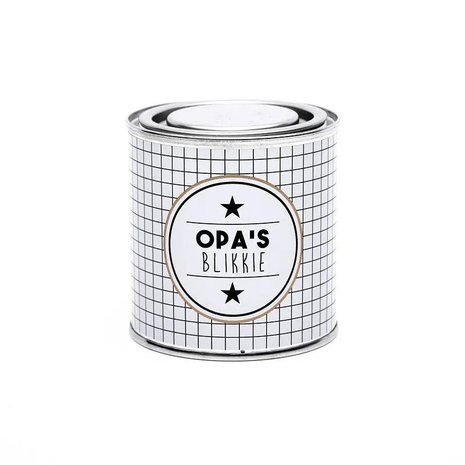 Product description
It's always nice to put Grandpa in the spotlight with a unique and personal gift. And what could be more fun than a tin full of tasty licorice in the shape of school crayons? This tin is a perfect gift for Grandpa on Father's Day, Grandpa's birthday or just to thank him for his love and support.
The can holds 250 ml and is filled with delicious licorice. The school crayons licorice have a nostalgic look and provide a delicious taste experience. The can has a sturdy lid that keeps the licorices fresh and you can easily store the can.
This gift is not only a treat for grandpa's taste buds, but it is also a unique and personal gift. In fact, the can can be personalized with Grandpa's name printed on it. This gives the gift an extra personal touch and grandpa will immediately know that this gift was chosen especially for him.
This can is an original gift with which you can certainly surprise grandpa. It is a small gift, but with a big impact. It is a gift that grandpa will appreciate and will definitely make him smile. Moreover, the can is compact in size and easily fits in Grandpa's bag or pocket, so he always has a delicious snack at hand.
The can of licorice is made in the Netherlands and of high quality. It is a gift that has been assembled and packaged with care so that it arrives at grandpa's house in perfect condition. In short, the can of school crayons licorice is an original, personal and tasty gift that is sure to please grandpa.
Contents
The cans have a capacity of 250 ml.
Made in the Netherlands
Product specifications
Article number

KDH-558

SKU

Snoepblikje-opa