Flip Click Clock Bamboo Wood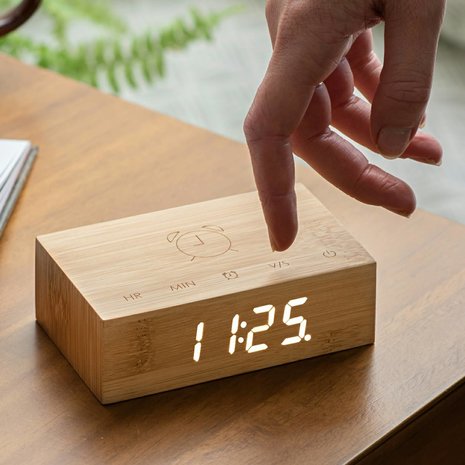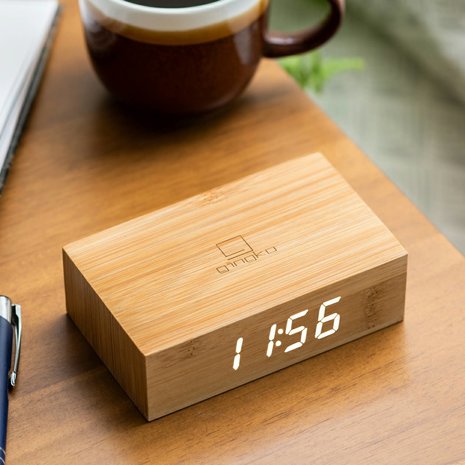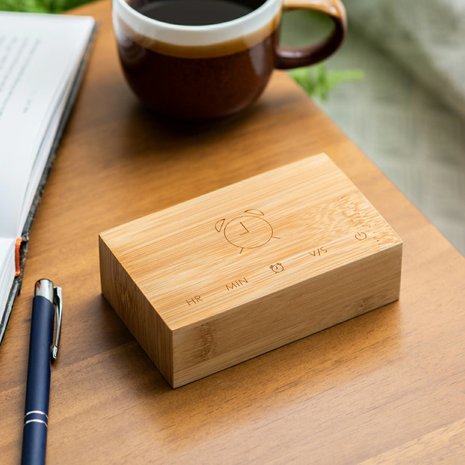 Product description
The Flip Click Clock is not just an ordinary alarm clock. It is a stylish and innovative product that stands out from other alarm clocks on the market. Winner of the UK Gift of the Year 2019 and currently the best-selling clock, it is designed to enhance your daily alarm clock experience.
The Flip Click Clock features several technologies that transform your daily routine. The sound-controlled LED clock system is a popular and classic feature, but the Flip Click Clock takes it a step further. The laser-engraved touch control buttons and new flip alarm technology make the clock even easier to use.
When the clock is displayed with the Gingko logo at the top, it means the alarm is off. When the nicely engraved alarm icon is displayed at the top, it means the alarm is on. The sound-controlled clock system works in the same way as other click clocks. The clock display automatically disappears when it is silent, but the clock continues to work and move perfectly every second. The light comes back on when you gently touch the clock, or when you tap on it, or when you click your fingers.
The design of the Flip Click Clock is sleek and stylish. It comes in a variety of colors and materials, including wood and aluminum. It fits easily into any interior and adds a touch of elegance to your bedroom or office. Moreover, it is compact and portable, making it easy to take with you when traveling.
The Flip Click Clock also has a built-in USB charging port, making it not only an alarm clock but also a convenient charging station for your mobile devices. The battery life is impressive and can last up to two weeks with just one charge.
In short, the Flip Click Clock is an innovative and stylish alarm clock that will enhance your daily routine. With its smart technologies, sleek design and convenient charging function, it will surely be a useful and stylish accessory in any room.
powered by in-built 2000 mAh rechargeable battery with USB charging cable included
alarm clock in sound activated or permanent display
12 or 24 hours display
natural wood finishes in white maple
touch control buttons
flip technology: the numbers automatically
correct themselves when it's flipped over
battery life: approx. 6 months in sound activated display or 2-3 weeks in permanent display
charging time: 3-4 hours
product size: 115 x 70 x 36mm / 4.25'' x 2.75'' x 1.42'' (L*W*H)
product weight: 150g / 0.33 lbs
Product specifications
Article number

KDH-486

SKU

G003B11