Mr and Mrs Coffee mugs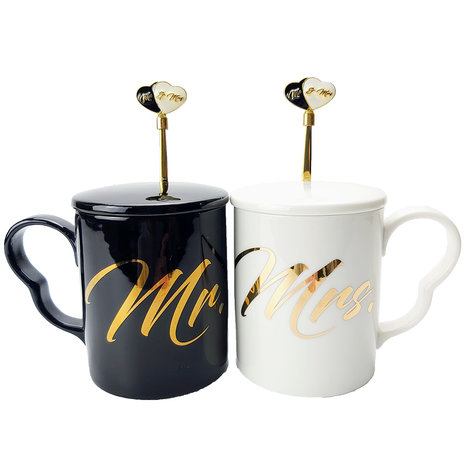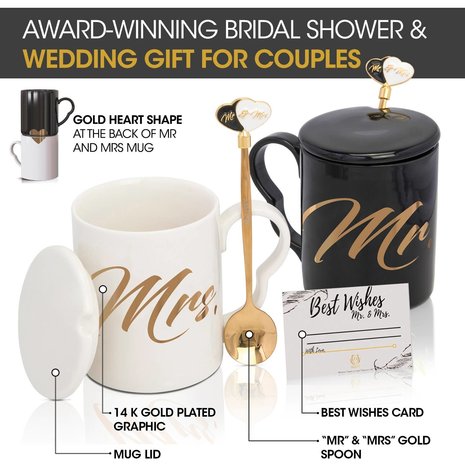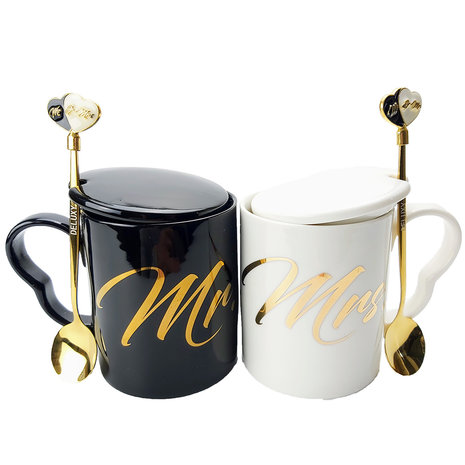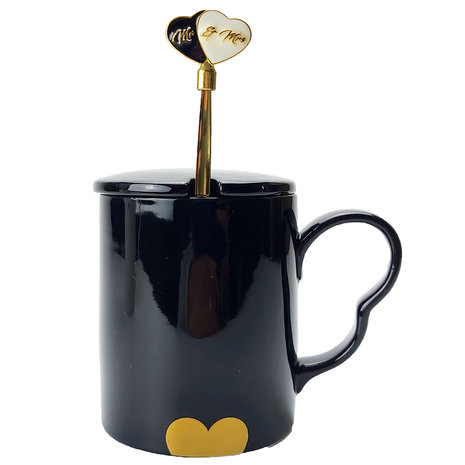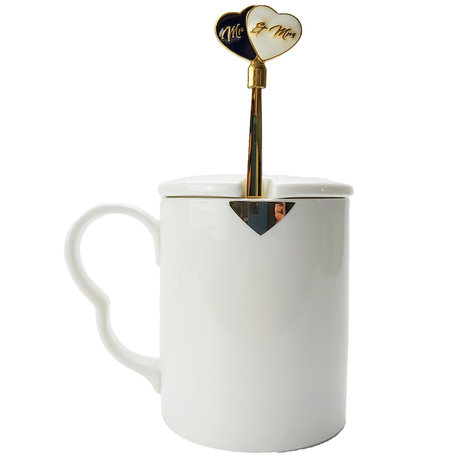 Product description
Are you looking for a unique and stylish gift for a couple getting married or celebrating their anniversary? Then this bride & groom mug set is a perfect choice! This set is not only a practical gift, but it is also a nice memento of their special day.
The set includes a black mug labeled "Mr." and a white mug labeled "Mrs.". Both mugs have convenient lids to keep the coffee or tea warm. The lids are easy to remove and can also be used as coasters for the mugs. This keeps the table and tablecloth neat and clean.
The mugs are made of high-quality ceramic and have a capacity of 350 ml. They are not only suitable for hot drinks, but can also be used for cold drinks, such as smoothies and milkshakes.
As a bonus, two spoons are also included with the text "Mr" and "Mrs" in an elegant gold color. These spoons are not only useful for stirring drinks, but also add an extra touch of elegance to the set.
The bride & groom mug set comes in a beautiful gift box, making it a perfect gift for weddings, engagements, couples' Christmas gifts and anniversaries. The recipients will surely appreciate this set and enjoy it for years to come.
This set is not only a great gift for couples, but can also be used as a decoration for the kitchen or dining room. The mugs with their lids and matching spoons are a stylish and functional addition to any household.
In summary, this bride & groom mug set is a beautiful and useful gift for any couple looking for something special to celebrate their love.
Contents
1x black mug Mr with lid
1x white mug Mrs with lid
2 x Mr & Mrs spoon color gold
Product specifications
Article number

KDH-513

SKU

WF-7T4B-9J7M