Limoncello in bag with candle holder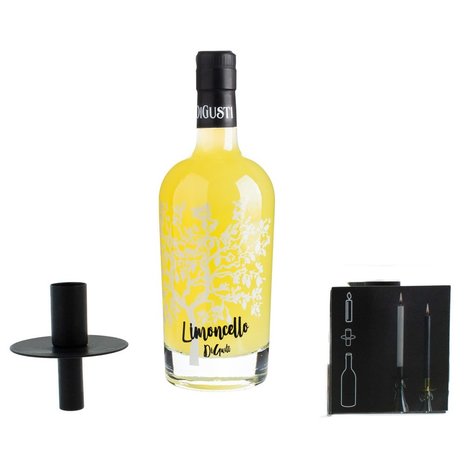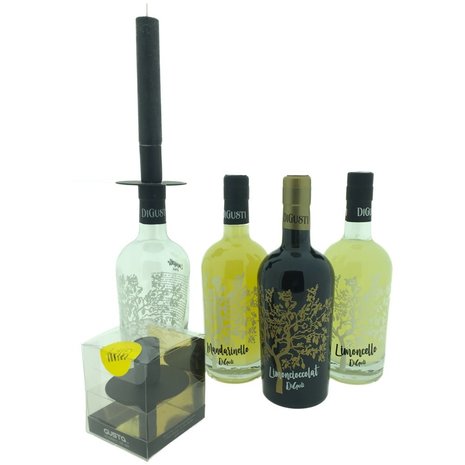 Product description
Limoncello 500ml in bag with candle holder
Winner World Spirit Award 2020. Awarded double gold and spirit of the year! After nine years, a new trendy printed bottle that you can use as a table water bottle. The Limoncello has a content of 500ml and contains 30% alcohol.
The Limoncello is made from lemons (mandarins) that are guaranteed to ripen on the southern Italian coast with the best climate. They are 100% free of pesticides and the Limoncello's do not contain any odors, flavors or dyes. Lemons are a seasonal product and the climate influences the color of the peel. As a result, there may be some color difference per badge. There is simply no fairer (and tastier)! The thicker sweet skin also means that much less sugar is needed for the production of these Italian delicacies. 220 grams per liter.
One limocello is not the other
When tasting Limoncello, make sure that the liqueur does not have a too bitter aftertaste and that lemons and alcohol taste are in good balance with each other, so that one does not dominate the other. In short, with real Limoncello you can taste a natural lemon taste and a long, fresh aftertaste. Limoncello should be drunk ice cold and served straight from the freezer. The alcohol percentage is usually between 28 and 32%, so it does not freeze.
The lemon zest makes the difference
The authentic Limoncello is made from the lemons from southern Italy: large, with a thick skin full of essential oils. And that is what makes the taste of real Limoncello so viscous and distinctive. These lemons grow in a special micro climate, formed by the proximity of the sea and the use of pagliarelle (straw mats). To avoid direct contact with the ground, the lemons are held up with chestnut stakes (higher than three meters) and harvested by hand. The lemons should have no residues on the peel, no wax layers, and preferably come from Sorrento (the north side of the Monti Lattari), Costa Amalfitana (the south side), or from Capri. Lemons from this region even have the IGP quality mark, or Protected Designations of Origin: Limone di Sorrento IGP and Limone Costa d'Amalfi IGP. They do not grow there for their juice, but for their peel: no juice from the lemons should be used in it. The thick skin of this type of lemon is rich in essential oils, strong fragrance and aroma. Limoncello has been known since the beginning of the last century. Initially it was a small-scale local production according to an original recipe that still comes from the medieval monks. Commercial production of Limoncello does not start until the 1980s.
Product specifications
Article number

KDH-017

SKU

06.0008-1