Children's treasure chest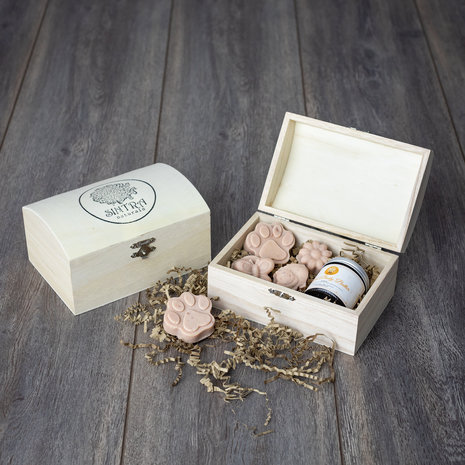 Product description
We must always start young to create good and sustainable habits. The best way to start is to give them ethical and environmentally conscious gifts.
We spend a lot of money to give our children expensive gifts, whether it's for their birthdays or Christmas or just because... It's our way of showing love and can be a reward for good behavior. Why shouldn't the gift be ethical and beneficial? both for our children and for the environment.
This treasure chest for our children is the best example of such a gift.
Comes in a reusable wooden treasure chest that is sturdy and long lasting...
Contents
3 fun, all-natural vegan mini soaps.
1 mini body butter.
Sintra Naturals has made sure that the products are suitable for our children's sensitive skin and it is a gender neutral gift set that is suitable for both boys and girls
ROSE SOAP:
Made with shea butter, olive oil and coconut oil and colored with French pink clay and dried rose petals, no fragrance or essential oil added, so suitable for children of all ages.
BODY BUTTER:
Made from sea butter, mango butter and grapeseed oil with a hint of vitamin e. No allergens or fragrances or essential oils added, so suitable for children of all ages, even sensitive skin.
Product specifications
Article number

KDH-325

SKU

SIN195439